Hello, and welcome to Parallels!
My name is Lev Tsimring, I am a physicist and a photographer (more on that below, in the Bio section). When I travel – and thanks to my profession I travel quite a bit – I use my camera to look inside the soul of the place through photographing its people. I don't spend much time taking photos of famous landmarks or pretty landscapes. I realize perfectly well that many excellent photographers, some of them way better than me, have already 'been there, done that', most likely even from the very spot I stand on. Instead, I walk the streets trying to catch glimpses of people's lives, their faces, their emotional reactions. In my photos you see them talk, laugh, cuddle, argue, walk, relax, read, nap… You may call it voyeurism, and you probably would be right, but is it bad? I genuinely mean no harm or disrespect to my unsuspecting "victims" when I take with me moments of their lives. I cherish the fact that these fleeting moments are exactly that – fleeting – and so they persist only in my photos and nowhere else. Looking through the piles of street captures I accumulated over the last several years, I realized that no matter how far I go and how different the language, culture, or circumstances of these people are from my own, I find the situations, and emotions are very similar. I feel that people are people, wherever and however they live, and this project is my way of sharing this feeling with you.
Every post here is composed of TWO PHOTOS, shown side by side. Usually, they are photos of ordinary people from two different parts of the world, but related in some way – through theme, story, composition, mood, facial expression, key elements. In this way I want to show that no matter how different and far apart we live, there is always something that hopefully holds us together as humans. In most cases, the connection between the two photos is pretty obvious, but occasionally you might have to give them a closer look to find it. Perhaps, you'll even find a different connection from what I had in mind. And why not?
This website has a sister Facebook page https://www.facebook.com/photoparallels/ which I encourage you to visit and "like" :-). For your convenience, I provided a button in the sidebar to your right ——————–>
In September 2015, a coffee-table book "PARALLELS" was published by Los Angeles-based publishing company En Ville Publishing. In this beautifully published hardcover book, 60 pairs of photos from this project were selected and arranged them in four chapters. More information on this book (including an option to purchase a signed copy) can be found here
I hope you will enjoy following me in this endeavor. Please bookmark this page and come back regularly!
Cheers, Lev
____________________________________________________________________________________
About the photographer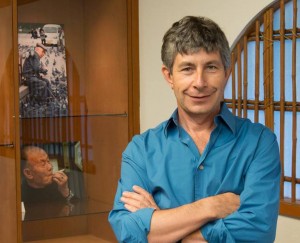 Lev Tsimring was born and raised in Russia (back then – Soviet Union) where he learned the basics of photography from his father. Since 1992 he is based in San Diego where he works at the University of California and studies physics of living systems. In the last 10 years, his photography grew from a mere hobby to a full-blown artistic endeavor. Lev regularly exhibits his works in group and solo exhibitions, he has won several prestigious international awards and in 2005 published his first book of photography, "Through my eyes". More of his photographic work can be found at his personal website http://www.levtsimring.com/
All photos on this site are © Lev Tsimring. If you are interested in licensing any of the photos or purchasing prints, please consult the Prints page